A Directory of Divorce Law Firms
Divorce can be a very emotional event involving deep grief, anger, and fear for one or both spouses. Very personal and private issues can become public.
An experienced divorce lawyer can help you make rational decisions that are in your best interest and protect your legal rights and your future.
Our divorce law firms are experienced in several areas of family law, including several types of divorce:
Contested
Uncontesed
No-Fault
Fault
Contested vs Uncontested Divorce
A contested divorce is one in which the parties cannot agree on the terms. An uncontested divorce is one in which spouses agree to all of the terms without the need for a court battle. An uncontested divorce is best for everyone involved when it is possible for both spouses to come to a fair agreement on all of the terms of the divorce.
Even if you are seeking an uncontested divorce and can work well with your spouse in creating an agreement, you should talk to an experienced divorce lawyer to make sure that you are not agreeing to terms that will harm you in the long run.
A contested divorce is not a divorce in which one spouse is trying to block the action. In the U.S., anyone who wants a divorce can get one and no one can legally block them from obtaining it. However, in some states a waiting period can be imposed if one spouse does not consent to the divorce.
No-Fault Divorce
In a no-fault divorce you do not have to prove that your spouse did something wrong in order to justify the divorce. Every state allows no fault divorce, with the specific wording for the reason varying from state-to-state. Commonly accepted reasons for no-fault divorce include:
Incompatibility
Irreconcilable differences
Irremediable breakdown of the marriage
Some states require a separation period or waiting period to encourage couples to try to work things out before granting no-fault divorce, even of both spouses consent to the divorce. For instance, in Arkansas you must prove that you have lived separately for 18 months before a divorce will be granted. Any cohabitation or marital relations during that period will reset the clock.
Fault Divorce
Many states no longer recognize fault divorce. In a fault divorce one or both spouses ask for the divorce based on something the other spouse has done wrong or to harm the marriage. The grounds for fault divorce vary in the states that even allow it, but generally include:
Adultery
Cruelty
Willful desertion or abandonment for a certain length of time
Absence of the spouse without being heard from for a certain length of time
Confinement in prison or a mental institution for a certain length of time
Being convicted with certain sex crimes
Habitual substance abuse
Inability to engage in sexual intercourse, not disclosed before the marriage
There is no waiting period for fault divorce. In some states you can receive more property or alimony if you can prove fault on the part of your spouse. If both spouses are found to be at fault "comparative rectitude" is applied and the spouse who is least at fault is granted the divorce.
If you have any questions about divorce, talk to a divorce lawyer near you.
---
Infographic: Divorce Statistics in the United States
(Copple, Rockey, McKeever & Schlecht)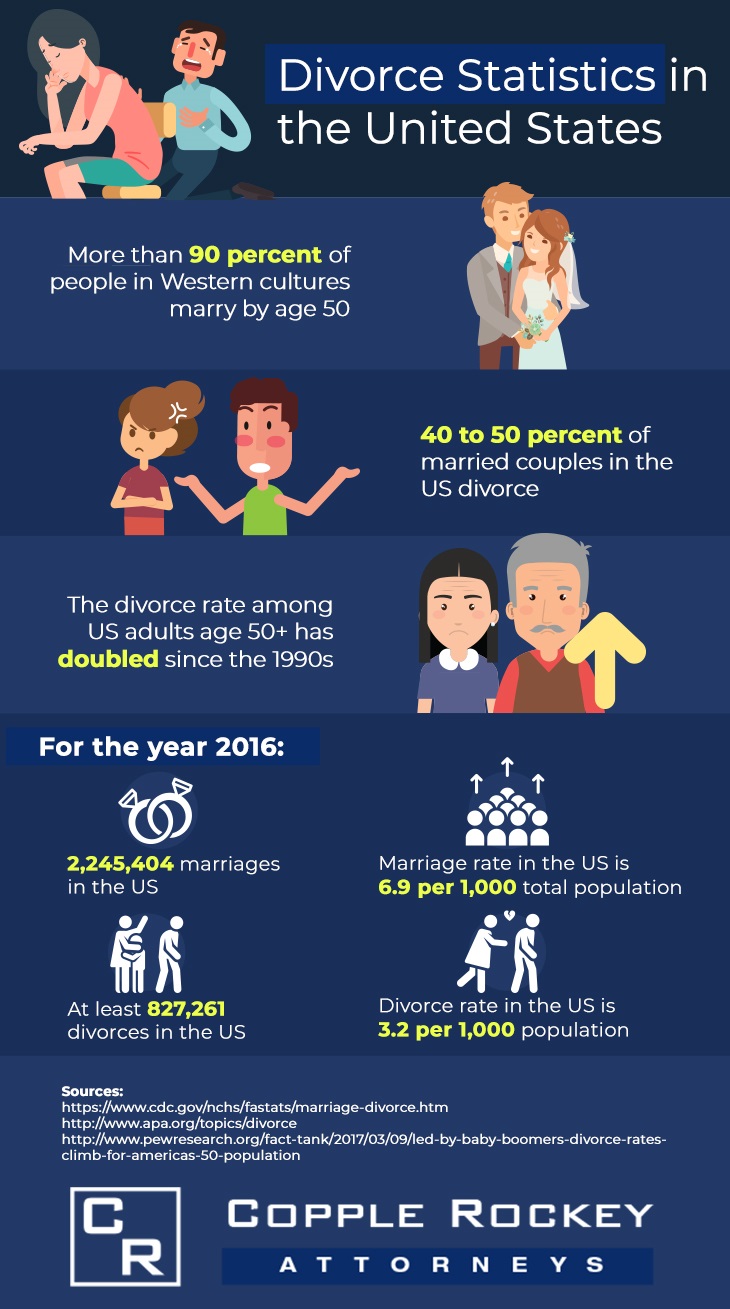 Common Issues Addressed in Divorce
Division of property and debt
Child custody and parenting time
Child support
Spousal support/alimony
To connect with an experienced divorce attorney in your area, please search our network of divorce law firms today.